Note: Click Images to enlarge


The cube is ideal for a small business up to 5 servers, also good for branch office backup of large organization remote offices. 500 Gig compressed capacity. 100MBit network and 1 hot swap bay with DVD burner.

The Rack server is ideal for large Corporates and School districts. Each rack can backup up to 4 TB compressed and act as a remote mirror for multiple Cubes. Supports up to 4 Hot Swap bays and 4 internal SATA bays. 1000MBit network speed and Virtual Machine emulation. DVD Imaging.

Portable Hot Swap media supports up to 500Gig drives for 1TB compressed capacity. Data portable between cube and rack. Portability also via network sync. Media is reusable with a simple format or can be stored long term safely in storage case below. Media has Fire Wire interface and good ventilation. With an average of 98% data compression using IDFO deduplication technology a correctly sized server can bakup to to same media for 6 months.

Snap-Safe Carry case for media above. Shock Proof and waterproof. Customers have reported accidently reversing their car over the case and the contents were still in good shape. Airtight seal make it safe in the event of sprinkler damage during a fire. Safe to transport hard disk media with courier service.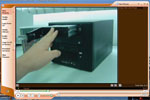 Video of Carry case and hot swapping media in Cube which is same action as rack server. At 1 TB per media pack you can dump your tapes forever. Give us a shout to try it out for yourself.